Think Before You Link
When deciding your link building strategies, who you link to can be as important as who links to your website.
Links as Online Referrals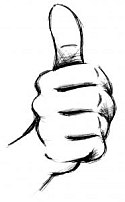 Think about where your word of mouth referrals may come from and begin drawing up a list of potential link exchange partners. An exchange of links with people you already know is one of the easiest places to begin any link building campaign.
Never forget that whoever you exchange links with becomes an ambassador for you and your site. Just like with in-person referrals, the source matters. That company with a great reputation in the community can make for a great referral. Likewise, a referral from the company that has a bad name in town can lead people to think that you are equally untrustworthy.
Link Building Tips
Never forget that every link on your website to another site is essentially an engraved invitation to leave your site.
Never forget to check out the sites you link to. Is your competition listed there? Consider the local area Chamber of Commerce website. A link from them could be useful for incoming traffic but could easily become a huge mistake if it leads your prospect to your competitor.
If you work independently within a larger firm (think real estate, insurance, brokerages, etc.), a link back to your parent company may not be such a great idea. Why work to get a prospective customer to your site only to tell them, "Hey, why don't you meet the other agents in my office and see if you like one of them better?" You wouldn't do that in real life, why would you do it on the Internet?
Beyond SEO Link Building
There are numerous books and free web resources on building links and search engine optimization. I could write volumes on the subject but this article was designed to get you thinking beyond search engine optimization when developing your link building strategy.
Employing a link building strategy that is based on old style business to business referrals may lead to something even better than an increased search engine position – it may just lead to increased sales.